Investment Biker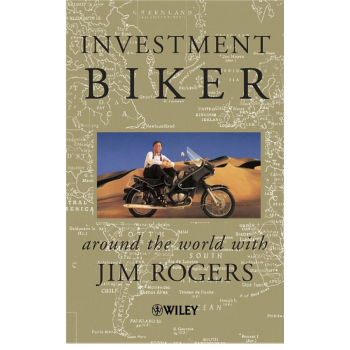 Product Code:

Paper Back

Availability:

In Stock
---
Around the World with Jim Roger
Legendary investor Jim Rogers gives us his view of the world on a twenty-two-month, fifty-two-country motorcycle odyssey in his bestselling business/adventure book, Investment Biker, which has already sold more than 200,000 copies.
Before you invest another dollar anywhere in the world (including the United States), read this book by the man Time magazine calls "the Indiana Jones of finance."
Jim Rogers became a Wall Street legend when he co-founded the Quantum Fund. Investment Biker is the fascinating story of Rogers's global motorcycle journey/investing trip, with hardheaded advice on the current state and future direction of international economies that will guide and inspire investors interested in foreign markets.
About the author
Jim Rogers entered the investment business in 1968 with $600 dollars in his pocket. By 1980, aged 37, he had left Wall Street with enough money to satisfy a lifelong appetite for adventure. He has been chronicled in Jon Train's Money Masters of Our Time, Jack Schwager's Market Wizards, and other books. He has been frequently featured in Time, The Washington Post, The New York Times, Barron's, Forbes, Fortune, The Wall Street Journal, The Financial Times, and most publications dealing with the economy or finance. He has also appeared as a regular commentator and columnist in various media and has been a visiting professor at Columbia University. He is the author of two successful trade books: Investment Biker, and Adventure Capitalist.
Related Products