Principle-Centered Leadership Unabridged Edition by Covey, Stephen R. (2012)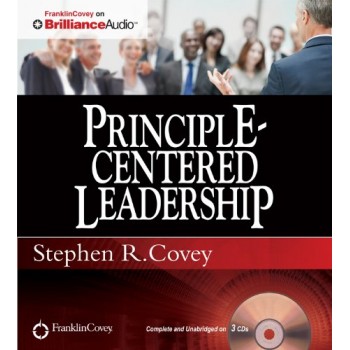 A Long-term, Inside-out Approach to Developing People and Organizations
How do we as individuals and organizations survive and thrive amid tremendous change?
Why are efforts to improve falling so short in real results despite the millions of dollars in time, capital, and human effort being spent on them?
How do we unleash the creativity, talent, and energy within ourselves and others in the midst of pressure? Is it realistic to believe that balance among personal, family, and professional life is possible?

Stephen R. Covey demonstrates that the answer to these and other dilemmas is Principle-Centered Leadership, a long-term, inside-out approach to developing people and organizations. The key to dealing with the challenges that face us today is the recognition of a principle-centered core within both ourselves and our organizations. Dr. Covey offers insights and guidelines that can help you apply these principles both at work and at home -- leading not just to a new understanding of how to increase quality and productivity, but also to a new appreciation of the importance of building personal and professional relationships in order to enjoy a more balanced, more rewarding, more effective life.

Sam Walton Chairman, Wal-Mart Stores, Inc. "Covey's philosophy for creating more meaningful relationships and successes in the workplace is one we should be striving to implement throughout business and industry, in the home and elsewhere, if we expect to be rewarded with happiness and a fulfilling future. I truly believe that the values he stresses in Principle-Centered Leadership are fundamental to developing a total quality environment."
Catherine Crier CNN News Anchor "The world is in dire need of a paradigm shift in attitudes and values. Stephen Covey gives us the blueprint with which to create a better personal, business, and political environment and produce this fundamental change. All we need do -- is act!"
Thomas R. Horton Chairman, American Management Association "As if Covey's first book The Seven Habits of Highly Effective People, was not enough, his new book Principle-Centered Leadership is a real tour de force."
Phyllis J. Dudenhoffer International President, General Federation of Women's Clubs: "Principle-Centered Leadership gave me new insights into working with and for our volunteers. The ideas are basic, yet as we go through our life's work we sometimes overlook the simple basic truth. This book inspires me to build a better life."
Joshua Hammond President, American Quality Foundation "We consider Stephen R. Covey to be one of the five most important contributors to shaping America's next level of thinking in quality."
About the Author
Recognized as one of Time magazine's twenty-five most influential Americans, Stephen R. Covey (1932–2012) was an internationally respected leadership authority, family expert, teacher, organizational consultant, and author. His books have sold more than twenty-five million copies in thirty-eight languages, and The 7 Habits of Highly Effective People was named the #1 Most Influential Business Book of the Twentieth Century. After receiving an MBA from Harvard and a doctorate degree from Brigham Young University, he became the cofounder and vice chairman of FranklinCovey, a leading global training firm.
Related Products